Britney Amber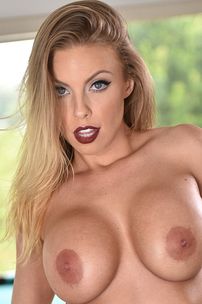 Biography
Britney Amber (born 1986 in Banning, California) is an American porn star and adult model. Her breasts were augmented from B cup to D cup in April 2008.
Before working at the Bunny Ranch, Britney Amber worked the graveyard shift auditing paperwork at a hotel. At the Bunny Ranch, she would see about 10-15 men a week. It has 33 rooms and is pink and she had her own bedroom. "It's more discreet, it's more one-on-one, more money, and a lot easier [than porn]." She added, though, the "food sucks."
She is sometimes billed as Brittany Angel, Brittney Amber, Brittany Amber or Brittany. She has been nominated for a variety of AVN awards, including Best New Starlet and Unsung Starlet of the Year. Britney Amber lost her virginity when she was 14. "I was in my dad's closet…it was like a little house. I actually didn't see anything, it was dark." She added, "I had anal sex the same day, same time. I didn't know anything about sex….actually [vaginal] sex hurt more the first time." She preferred anal sex through junior and high school. She added, "I don't like giving oral sex that much." In her freshman year, she was expelled. Britney gave her first blow job to a man in his 40's when she was 15. He was also the first man to give oral sex to her. "I like intercourse the best…I like being on top the best." She added, "I like girls, just not as much as guys."
She likes tattoos and "guys who do sports". Her hobbies and interests include "food, sex, photography, weed, pole dancing, burlesque dancing, fitness and traveling." Britney Amber said, "I love working on parodies, they are my favorite scenes to do. I took a few acting classes during college and really started to enjoy acting once I learned how to do it." She is a fan of the "Hellraiser" and "Nightmare on Elm Street" series. When asked who would make a better porn actor, she said, "Freddy is a sick rough anal loving bastard, but Pinhead would make a better S&M/fetish star." For fans who want to connect with their favorite star, Britney also has an Amazon wish list. Britney Amber is single and lives in Banning, California.
---
Scenes