Gabriella Paltrova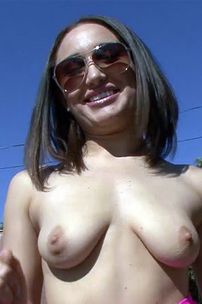 Biography
Gabi was born in Chicago on June 22nd 1991. She had a difficult time at school, as she says, being bullied every day, so she was constantly trying to find a way to get over that. Paltrova attended private schools while growing up. She was building up her self confidence with positive affirmations but it wasn't until she became a stripper when she finally accepted herself for who she was.
Gabriela is of mixed Syrian, Russian, and Armenian descent, and a little Jewish, so she decided she wanted a name that didn't sound like a typical porn name. She wanted it to sound a bit Russian.
She was 18 years old when she first slept with a man. When she was 16 she was dating a girl, and prior to her first sexual intercourse she gave lots of oral sex. Her first sexual partner was a man who was 30 years old and she was really attracted to him. Her family was very religious and she thought she'd save herself for marriage but she decided to do it anyway, because as she says "guys can be real assholes whether you give it up or not". Five months after she lost her virginity she became a stripper in Chicago (2009). She says that she didn't slept with a lot of guys prior the porn career and that she has only slept with 9 men; when she decided that if she'd come over that number she thought it would be better to do it in the porn industry.
---
Scenes