Amara Roman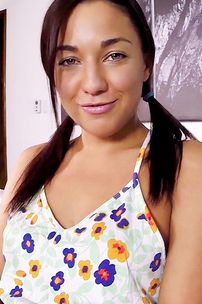 Biography
Amara Roman (aka Amara Romani, Amara Ramona, Amara Ramoni) was born March 25, 1993 in Sewickley, Pennsylvania but grew up in Pittsburg. She was a very shy and quiet girl in her school days so she believes that her former classmates would be very surprised to know that now she is a porn star. Amara was a cross country runner. At the age of sixteen she had sex for the first time. Although she was the shy girl in high school till the time she got to college she already had slept with about 100 people; she has stated that she would have a few drinks to get rid of the shyness.
The petite and slim Amara joined the industry in 2015. From the very beginning it was known that this green-eyed gorgeous brunette would be amazing at her job. It took her three years to finally decide and join the industry. Prior her porn career she worked as a waitress but she also did some webcam shows. This helped her get used to be in front of camera. Her first scene was an anal sex scene; she showed the producers and the companies that she is serious and ready to try anything. As a fan of gangbangs and group sex, she also did some extremely well performances in genres such hardcore, fetish, orgy, teen, interracial, POV, blowjobs etc. Amara gets turned on by multiple men at the same time and dreams to film a gang bang. She is a big fan of being degraded, called names, spit on etc.
In her spare time she loves going running and hiking, that is how she keeps her body fit. She also loves going out drinking and partying. Amara is attracted by funny guys, whom she can let loose with. She is also into girls (prior porn she also dated girls and had a girlfriend). Fans can follow her on her Twitter, Tumblr or Instagram page where she regularly posts new photos and short videos of her latest scenes.
---
Scenes