Anna de Ville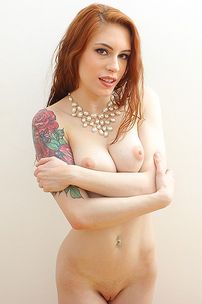 Biography
Anna De Ville was born on April 24, 1997 in the USA.
Anna grew up in Portland, Oregon and was attending arts academy for middle school and high school, which she never finished. She dropped out after her sophomore year, when she got her G.E.D. and started working at Hot Topic at the age of 14. The reason for dropping out of school was because she wanted to focus more on her job and her career. She ended up working in retail for 4 years and afterwards she switched to porn. She used to be an active gymnast but quit it after she dropped out of school.
The main reason she joined the industry is because she wanted to spend the summer after her 18th birthday in Europe. She had photo shoots in London and earned enough to pay for her European summer. After she went back home, she decided that she liked the industry and that she wanted to stay and work as a porn actress. She wasn't intimidated from her first scene at all. During the one year she is in the industry, she has learned a lot and improved herself and her positioning.
---
Scenes