Aspen Romanoff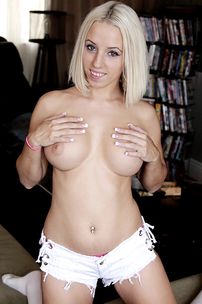 Biography
Aspen Romanoff is a hot, sexy girl of Russian origin. Born in 1992 in Tver, Russia, Aspen is a model that will turn on any man. She is sexy, and she knows it. Her 32DD size enhanced boobs will make you salivate and wish you could just get hold of them. She is a newbie in the porn industry, with only four months into the world of porn, and she is set to make a name for herself.
Aspen Romanoff joined the porn industry in September 2017, just as she was about to turn 25.we don't know exactly what drove her into porn, but what matters most is that she fits here perfectly well and her fans can't get enough of her. Aspen seeks ultimate satisfaction. She needed someone she could give herself to, someone who could satisfy her desires and fantasies. She can't hide her love for sex and her desire to get naughty on camera. She enjoys seeing that she is being watched.
Aspen is naughty, and she does not hide it. She enjoys acting naughty and getting down to do nasty things. She has mastered the art of seduction, and she knows how to tease men till they get a hard-on even before she gets to grab their dicks to give the handjob. Aspen knows how to combine the tricks of handjobs, blowjobs, and boob-jobs. That is before she takes in huge dicks in her pussy and in the ass too.
Most of the scenes Aspen has shot are with American pornstars, and she blended quite easily with them, adapting and grasping the thematic concepts of the scenes quickly. The major production studio she has worked with is Team Skeet, and she has been featured in numerous scenes on hardcore, Doggystyle, big cock, big-boobs, cowgirl, cumshot, petite, blowjob, teen, milf-sex, and big-butt. She has 15 videos and is still doing more videos.
We don't know much of what Aspen loves to do off-camera, but the obvious will always be there. Aspen is a very sexual woman, and she gets aroused very fast, so expect to find a dildo or a Hitachi in her bedroom. From her sex scenes, it is clear that she prefers being submissive to her male lover though at times she will want to dominate. Aspen also has a love for other women, and she cannot resist getting down with them for hot, erotic lesbian action off-camera.
---
Scenes