Charlotte Sartre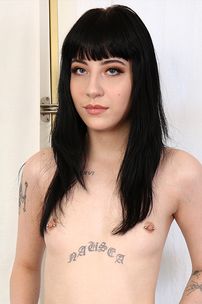 Biography
Charlotte Sartre is a Porn Star from United States. She was born in California on December 6, 1994.
Charlotte Sartre is a name that you might have heard if you are into the taboo. When your second movie, Treat My Ass Horribly Part 1-2, is with Kink.com then calling her work taboo is a bit of an understatement. As a woman into anal, domination, impact play, breathe play, girls, and urine then you can prepare yourself for a night of dirty fun. With over twenty movies, with several coming in 2017, then you better have a lot of free time on your hand. Before she was in the film industry, she did a lot of webcam videos but her first time with a guy on camera is still in her first movie, Device Bondage.
At the age of 15, after seeing a Sasha Grey video, she decides that she wanted to get into the world of porn. Years of consideration and creating a backup plan, which is becoming an accountant/tax preparer, later then we have the Charlotte Sartre we know today. Her name is a combination of her first name and that of her favorite philosopher, Jean-Paul Sartre. When she is off camera then she is doing an entirely different dirty hobby, taxidermy. What once started out as a self-taught hobby to impress her first girlfriend is now something she does in her free time. She occasionally sells stuffed animals on her Facebook.
---
Scenes