Mea Melone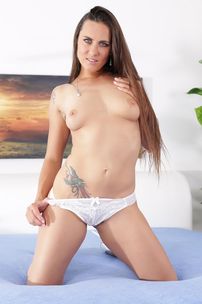 Biography
Mea Malone was born on May 17, 1989 in Prague, Czech Republic. Mea started her career back in 2012 when she was twenty-three years old. Her hard and passionate work can be seen in all sorts of porn genre such as threesome, hardcore, squirting, lesbian, striptease and anal, but mostly she is famous for her gangbang and anal sex performances.
Mea is also famous and (dearly love by her fans) for her incredible flexibility and bendiness, which helped her achieve some really impossible positions. Within the past five years, Mea performed and was credited under several aliases such as Mia Melone, Mea Malone, Mea Antonio.
Mea has a few tattoos: one on her right shoulder; on the right side of her stomach; one on her hip and one on her left ankle. She has silicone implants in her breasts.
Currently she runs her own production, named Mea Malone Production, based in Prague, Czech Republic, where she also resides. She has active social network pages and fans can follow her on Facebook, Instagram and Facebook.
---
Scenes