Saya Song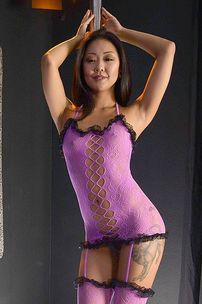 Biography
Saya Song was born on April 26, 1989 in Seoul, South Korea.
Saya Song was born in South Korea, but was adopted at a young age and grew up with her family in Michigan. She attended a local public school and as she puts it, was "band geek" that played various instruments, including the trumpet and piano. Song's first foray into the adult industry was working at a local club as a stripper before she began making amateur porn on her own. After two and a half years of creating her own content, she realized, "I can do this, and this is what I'm good at" which inspired her to begin filming professionally, full-time. Her first shoot was with co-star James Deen in Amateur Applications 2.
In her free time, Song enjoys cooking, reading, writing, exercising, listening to metal or hip-hop, or watching action movies and Anime.
---
Scenes