Taylor Wane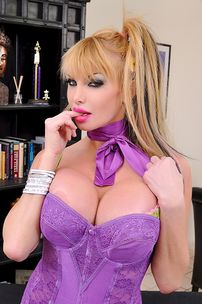 Biography
Taylor Wane (born 27 August 1968) is the stage name of a British pornographic actress , director , model , and serial entrepreneur . She was inducted into the AVN Hall of Fame in 2005 and the XRCO Hall of Fame in 2014. Wane was also the Penthouse Pet of the Month for June 1994.
Wane initially wanted to be a teacher. However, at age 18, her mother entered her into a calendar girl competition, which she won. This led her to an interest in becoming a model and she was soon signed by an agency. After moving to London, she began working as a topless model. Next, she moved to Los Angeles , where she spent more than a year working as model for men's magazines. Wane began performing in the adult video industry in 1989.
Wane has her own production company called Taylor Wane Entertainment started in the mid 1990s. She has also been the host of radio shows on Spice Radio , which is on Sirius XM channel 103, and on KSEX Radio with a weekly night time talk radio show called The British Are Cumming.
In 2003, Wane launched her own limited edition, X-rated quarterly comic book series in association with H Bomb Comics called Vamptrix . The design of the main character is based on Wane.
In 2005, Wane launched her own line of sex toys called the "Taylor Wane Collection".
Wane was honored by a platoon of U.S. Navy SEALs stationed in Iraq in 2007. An American flag was flown for twenty-four hours in honor of Wane as thanks for autographed pictures and correspondence she sent to them. Wane later received the actual flag framed with a Flag Citation. Few others were honored as it is customary for the platoon to vote on a list of people to be honored which typically include family and other service members. The platoon also voted to include actor Kevin Costner and professional golfer Tiger Woods.
---
Scenes